Spreadsheet Assistant
Window Assistants Menu
The following is the Window Assistants menu that appears when you click on the Window Assistants button. Any of the features can be added to Excel's quick access toolbar for instance use any time.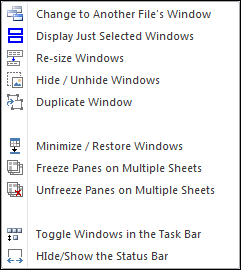 The feature we use the most on the the Windows Assistants menu are the first two:
Change to Another File's Window
Display Just Selected Windows
The first one displays a small floating dialog of the different workbooks that are open. With just a click, we can switch back and forth between files. No more having to click on the View Tab, find and click on the Switch Window button, and then click again on a file.
The second feature, Display Just Selected Windows, is extremely useful when one has a half dozen or more workbooks open and wants to see just two or three on the screen in a horizontal or vertical arrangement. To do this with this feature, you click on the menu item and then select the sheets you want to see and the arrangement and click OK. It makes a painful task simple.
Click on the following buttons to see the detail on other button features
---
Order online from our secure service.
Get delivery in minutes!

US $29.95
---
Customers who viewed the Spreadsheet Assistant also viewed: