Spreadsheet Assistant
Data Assistants Menu
The following is the Data Assistants menu that appears when you click on the Data Assistants button. Any of the features can be added to Excel's quick access toolbar for instance use any time.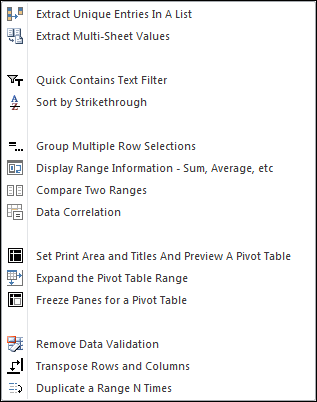 One of the most useful features on the Data Assistants menu is often overlooked: The Expand the Pivot Table Range feature. When you add data to the bottom of a pivot table's source worksheet, the data is not automatically added to the pivot table. Instead you must go to the pivot table, figureout how to change the data, and select the entire range manually. Painful. With the Expand the Pivot Table Range feature, you just click in the pivot table and click this feature. Instantly you are presented with a dialog showing the top left and suggesting the new bottom right corner for your data.
Click on the following buttons to see the detail on other button features
---
Order online from our secure service.
Get delivery in minutes!

US $29.95
---
Customers who viewed the Spreadsheet Assistant also viewed: