Spreadsheet Assistant
Quick Access Menu
The following is the Quick Access menu that appears when you click on the Quick Access button. This button can be added directly to the quick access toolbar for fast access.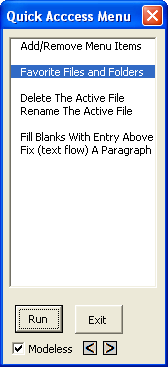 The Quick Access Menu is actually a floating dialog, not a dropdown menu! And we had it years before Microsoft came up with the idea of a quick access toolbar. We wonder if we gave them the idea.......
With the Quick Access Menu, you can add any of the Spreadsheet Assistant's commands to the menu, in the order you want them. So, if there are certain features you want to use over and over, but don't want to add to the quick access toolbar, this provides a great place to add them. And the menu is "modeless", which means that the dialog stays visible while you are working and select cells.
Click on the following buttons to see the detail on other button features
---
Order online from our secure service.
Get delivery in minutes!

US $29.95
---
Customers who viewed the Spreadsheet Assistant also viewed: