Spreadsheet Assistant
Fill Assistants Menu
The following is the Fill Assistants menu that appears when you click on the Fill Assistants button. Any of the features can be added to Excel's quick access toolbar for instance use any time.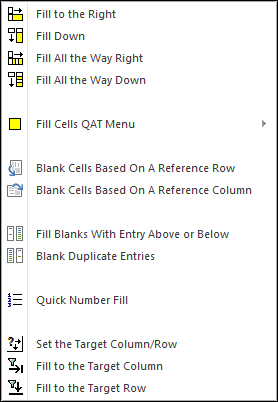 The first four features on the Fill Assistants menu lets you quickly and easily fill cells down or to the right without first having to select the range to fill. These buttons may be added directly to Excel's quick access toolbar, or you may add istead the Fill Cells QAT Menu button. It expands into the following sub-menu:

.
These are buttons we use all the time to fill right or down without the screen scrolling.
The Fill Blanks with Entry Above or Below feature is one that we have found very useful. Quite often we import data with blanks in the data to make it easier to read. Unfortunately, such blanks make the data unusable for filtering or with pivot tables. With this feature, one just selects the range with the blanks and cell entries and tells it to fill the blank cells!
Click on the following buttons to see the detail on other button features
---
Order online from our secure service.
Get delivery in minutes!

US $29.95
---
Customers who viewed the Spreadsheet Assistant also viewed: