Spreadsheet Assistant
Print Assistants Menu
The following is the Print Assistants menu that appears when you click on the Print Assistants button. Any of the features can be added to Excel's quick access toolbar for instance use any time.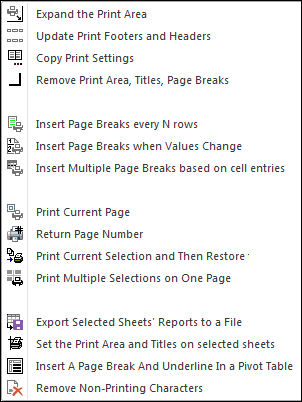 The Expand the Print Area feature makes expanding the print area super easy. And the Update Print Footers and Headers makes changing the print footers and headers on multiple sheets super easy.
If you have a large spreadsheet, then you know what a pain it is to print just a particular page of a many page report. You have set the print area, print the page and set it back. Or guess what page it is you want to print. The Print Current Page solves this problem completely!
If you have imported a web page, then you will sometimes see many weird non-printing characters. The Remove Non-Printing Characters gets rid of this junk with just a click.
Click on the following buttons to see the detail on other button features
---
Order online from our secure service.
Get delivery in minutes!

US $29.95
---
Customers who viewed the Spreadsheet Assistant also viewed: