Spreadsheet Assistant
Row & Column Assistants Menu
The following is the Row and Column Assistants menu that appears when you click on the Row and Column Assistants button. Any of the features can be added to Excel's quick access toolbar for instance use any time.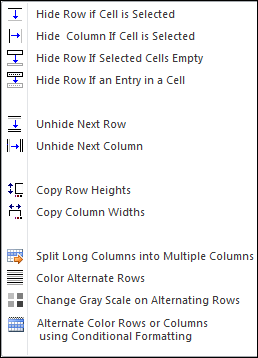 The Format Row and Column Assistants makes hiding and un-hiding rows very easy, especially the un-hiding the next row or column! We have found that we we will use the Conditional Select Assistants to select the cells in a column that we want to hide. Then we go to this menu and select the Hide Row if Cell is Selected feature and hide them. For example, if we have a worksheet with accounts and their values, we will often select all the low value accounts and hide their rows so we just see the high value accounts.
Click on the following buttons to see the detail on other button features
---
Order online from our secure service.
Get delivery in minutes!

US $29.95
---
Customers who viewed the Spreadsheet Assistant also viewed: