Spreadsheet Assistant
How to Use / About Menu
When you click on the How to Use / About button, you are given a choice of opening the Spreadsheet Assistant's exercise file, or checking what release of the Assistant you have.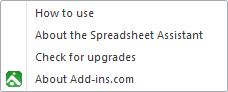 The exercise file has many quick, easy to do exercises that demonstrate many of the most popular features of the Spreadsheet Assistant. It is a great way to learn the Spreadsheet Assistant.
The Check for Upgrades menu item will not only take you to the upgrade page, but also tell you the release you have so you can tell if you need to download an upgrade.
Click on the following buttons to see the detail on other button features
---
Order online from our secure service.
Get delivery in minutes!

US $29.95
---
Customers who viewed the Spreadsheet Assistant also viewed: