Spreadsheet Assistant
Edit Assistants Menu
The following is the Edit Assistants menu that appears when you click on the Edit Assistants button. Any of the features can be added to Excel's quick access toolbar for instance use any time.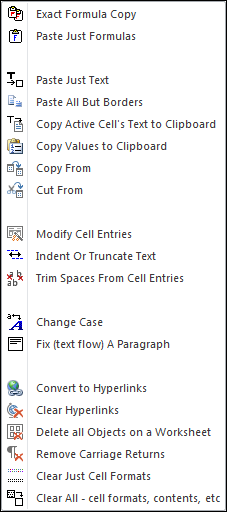 The Edit Assistants menu is full of useful features. The ones you will choose to use will depend heavily on the work you need to do. We have found that the Change Case feature is very useful. We also use the Copy Active Cell's Text to Clipboard a lot. This keeps us from pasting images of cells into our emails, and lets us just paste text and values only.
The Fix (text flow) A Paragraph lets you use Excel as a word processor!
If you have ever copy and pasted web pages into Excel, then you know such pages are full of hyperlinks and images of all sizes and shapes. Cleaning manually is painful if not impossible. With the Clear Hyperlins and Delete all Objects features, this becomes just a few seconds of work.
Click on the following buttons to see the detail on other button features
---
Order online from our secure service.
Get delivery in minutes!

US $29.95
---
Customers who viewed the Spreadsheet Assistant also viewed: