Spreadsheet Assistant
Options Menu
The following is the Options menu that appears when you click on the Options button. This button can be added directly to the quick access toolbar for fast access.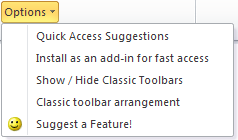 The Spreadsheet Assistant actually has very few options. The first one are some ways you can make better use of the Spreadsheet Assistant. Its number one suggestion is to add Spreadsheet Assistant features to the quick access bar!
The Spreadsheet Assistant is an "on demand" add-in, like all our add-ins. That means it doesn't load until you need it. However, if you use all the time, you might not want to wait the second or two it takes to load the first time you click on a feature during an Excel session. So, we added an option to have it auto load as an add-in when you open Excel.
If you are a long time Spreadsheet Assistant user, then you have grown used to the classic toolbars and buttons from Excel 2003 and earlier. Rather than say you can't have them when you are in Excel 2007-2013, we added an option to show them. And if you don't want them, to hide them.
The most important item on this menu is the last one: Suggest a Feature. We hope to hear from you on your Excel needs and how we can add features to save you time.
Click on the following buttons to see the detail on other button features
---
Order online from our secure service.
Get delivery in minutes!

US $29.95
---
Customers who viewed the Spreadsheet Assistant also viewed: