Sensitivity Chart Creator
An add-in product for Microsoft Excel

Create sensitivity or fish bone charts
quickly and easily
Display results in sorted order or in the order
you list in your worksheet
Automatically label end points and lines
Help and exercise file with step by step
instructions on how to use

Screen shots:

The Sensitivity Chart Creator is an add-in for Microsoft Excel that creates sensitivity charts. It is compatible with Microsoft Excel 2010-2021 and Office 365.
The following sensitivity chart was created by the Sensitivity Chart Creator: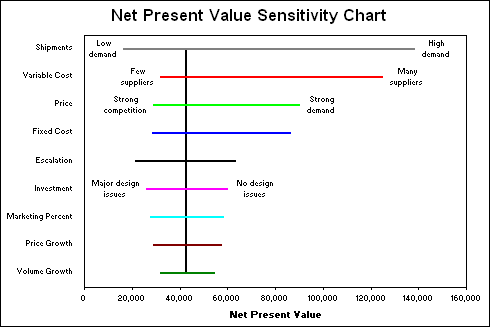 These charts are also know as tornado or fishbone charts due to their appearance. They show the sensitivity of key output variables, in this case Net Present Value, to key input cells (shipments, variable cost, to volume growth).
Order online from our secure service.
Get delivery in minutes!

US $29.95
---
Customers who viewed the Sensitivity Chart Creator also viewed: