Password Assistant
An add-in product for Microsoft Excel

Password protect or unprotect multiple sheets at one time
Password protect (with workbook open passwords) multiple workbooks at one time
The Password Assistant add-in for Microsoft Excel allows you to password protect or password un-protect multiple worksheets at the same time with the same password. The Password Assistant cannot recover lost passwords to worksheets or to workbooks.
The Password Assistant is completely menu driven: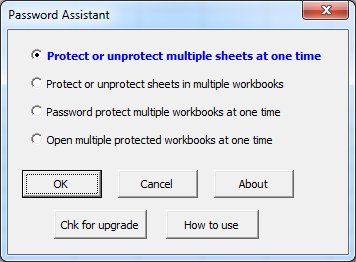 The menus are easy to follow and use. And to help you learn how to use the features of the Password Assistant there is a help and exercise file to give you hands on practice.
Order online from our secure service.
Get delivery in minutes!

US $29.95
---
Customers who viewed the Password Assistant also viewed:
Sheet Navigator - Move from sheet to sheet with great ease. View a list of all your sheets with one click!