Text File Importer
An add-in product for Microsoft Excel

Import files with more than 65,000 rows
into Excel 2003
Import files with over a million rows
into Excel 2007-20103
Import CSV files into Excel and not have Excel convert - allows you to run the Import Wizard
Import many CSV or text files at on time, to individual sheets or all to one sheet
The Text File Importer add-in for Microsoft Excel can quickly and easily import text files (CSV TXT PRN ASCII ....) containing over one million rows of data into Microsoft Excel. And, the Excel Import Wizard does not pop-up with the file is imported! It is compatible with Microsoft Excel 2007 to 2019 and Office 365.
One of our customers discovered when he manually opened CSV files that the credit card numbers (12 digit numbers) had the last digit changed from its actual number (1, 2, 3...) to a zero by Excel! With the Text File Importer, he was able to open the CSV file without it being automatically converted to columns. He could then specify that the credit card number was a text entry, and the zero was not dropped!
The Text File Importer is entirely menu driven. The following is the main dialog: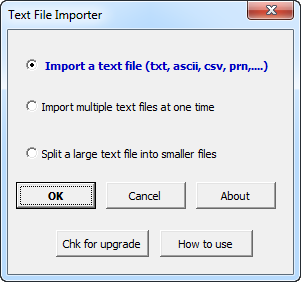 Order online from our secure service.
Get delivery in minutes!

US $19.95