Randomizer
An add-in product for Microsoft Excel
Randomize entire rows
Randomize just the cells in a selection
Source worksheet is never modified
Output is always to a new worksheet
to protect your original data
Make multiple random list - each different
The Randomizer add-in for Microsoft Excel will quickly and easily create randomized copies of your lists. It is compatible with Microsoft Excel 2007 to 2021 and Office 365.
The Randomizer has options that allow you to randomize entire rows, just the rows in a selection, or to randomize a range of cells: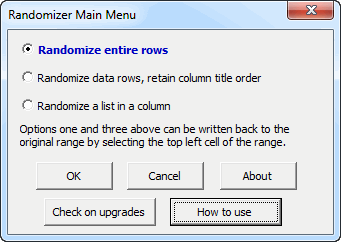 .
Use it to randomize lists of employees, teams, or tasks! You can have one list of people and next to it a list of tasks. Use it to randomize both lists so that the assignment of tasks to a person is complete random.
The following dialog shows the output options of the Randomizer: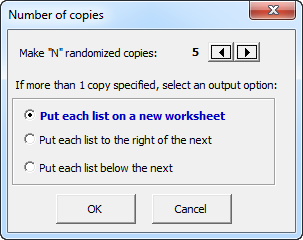 Order online from our secure service.
Get delivery in minutes!

US $19.95
---
Customers who viewed the Randomizer also viewed: