QAT Assistant
An add-in product for Microsoft Excel

FREE - No purchase ever required
Download now for the PC!

Latest release: 2.2
The Quick Access toolbar (QAT) in Microsoft Excel allows you to put any button or menu item on it for fast access. Its default location is above the tab names. But one can right click on it and relocate it below the formula bar. Once you discover this fantastic toolbar, you will add many buttons to it, and organize it just the way you want it. And, all goes great until one day THE TOOLBAR disappears!!! For no reason. It just disappears. And after hours of research you find that you can not recover the toolbar.
The QAT Assistant add-in for Microsoft Excel solves this problem! It creates a backup of the QAT file, with the month, day, and year as part of the file name. That way you know which backup is the latest. And it provides instructions on how to restore the QAT using one of the QAT backup files. It is menu driven and easy to use: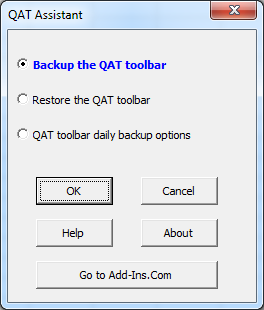 Best of all, The QAT Assistant is FREE. No purchase ever required! Just download and install. Download now for the PC!