Data Assistant
An add-in product for Microsoft Excel

Convert data in a nice looking report layout
to the data layout needed for a pivot table
Handles data in different report layouts
Lets you apply the power pivot tables to
better analyze your data
The Data Assistant add-in for Microsoft Excel helps you get your data into pivot tables the right way. It is compatible with Microsoft Excel 2007 to 2019 and Office 365.
Michael Matza wrote: "Every time I use the Data Assistant, I give thanks for your work. Although all of your stuff is great, this has proven to be unique and valuable to me over the years."
The Data Assistant converts data that is in table form into data that is usable for pivot tables. For example if your data looks like the following:

The Data Assistant will create a data table that looks like the following: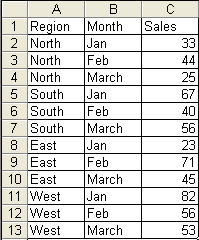 The original data is not modified - a new table is created. Data in the second format is the best format for pivot tables.
There is a help and exercise file that helps you learn how to use the Data Assistant. It is available by clicking on the button "Help/Exercise File" on the above dialog.
Order online from our secure service.
Get delivery in minutes!

US $19.95