Report To Data Assistant
An add-in product for Microsoft Excel
Convert report like worksheets
to data tables
Use the data tables to create pivot tables
Create re-usable instructions
Selectively extract data
The Report To Data Assistant add-in for Microsoft Excel is designed to help you convert text reports into Microsoft Excel worksheet databases. It is compatible with Microsoft Excel 2007 to 2021 and Office 365.
For example, if your report looks like the following: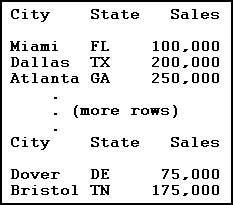 You would be faced with deleting the title rows that repeat every 60-80 lines and all the blank lines. With the Report to Data Assistant you can easily select the title rows and blank rows and delete them. Then you can use the data filter features of Excel or the pivot table features to analyze the data.
The Report to Data Assistant can also help you extract rows from a file. When the above report is parsed into Excel the sales data ends up in column C. With the Report to Data Assistant you can select all rows with numeric entries in column C. Then you would copy these rows and paste on a new worksheet.
The Report To Data Assistant also has options that allow you to combine multiple rows onto one row and to concatenate multiple cell entries.
Order online from our secure service.
Get delivery in minutes!

US $19.95