Workbook Print Assistant
An add-in product for Microsoft Excel

Print multiple sheets in a workbook at a time
Create a list of workbooks and worksheets and selectively print sheets
Print entire files quickly
The Workbook Print Assistant add-in for Microsoft Excel will quickly and easily print all the worksheets in multiple workbooks at one time. Or you can use it to selectively print worksheets in many different workbooks. Workbooks will be opened and closed as needed. It is compatible with Microsoft Excel 2003, Excel 2007, Excel 2010 and Excel 2013.
The following dialog is the main dialog of the Workbook Print Assistant: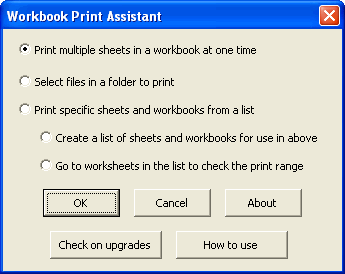 The first option is for open workbooks. It allows you to print any or all of the sheets in an open workbook. One can select the sheet print order to get the printout in the order needed.
The other options are for printing multiple worksheets and workbooks. The workbooks are automatically opened and closed as needed.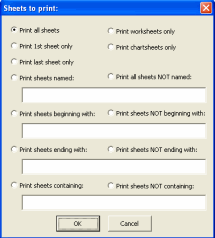 click to enlarge
The dialog to the right appears if one uses the option "Select files in a folder to print". It allows one to selectively print sheets without opening the workbooks. For example, you can print all sheets, just the first sheet, or specify filters to indicate sheets to print or not to print.
If you want to be more selective on the sheets to print, then use the option "Print specific sheets and workbooks from a list" found on the main dialog above.
To use the "Print specific sheets and workbooks from a list" option, you would first use the option "Create a list of worksheets and workbooks". This creates a worksheet listing the path to each workbook, the worksheets in it, their print areas, and the header and footers. Chart sheets are also listed and can be printed. The following shows a sample of what this workbook looks like. (columns for orientation, headers and footers are not shown). Once created, you can delete rows you do not need and arrange the rows in the order you want to do the printing.

To print specific sheets, just select the range containing the sheets you wish to print.
When you use the above options, you are then presented with the following option choices:
| | |
| --- | --- |
| Print area options | |
| | |
| Header and footer options | |
Lastly, a confirmation dialog appears. When you click OK, all of your sheets are printed. This is far easier than opening workbooks and going to each sheet to print.
Order online from our secure service. Get delivery in minutes and start saving time!
Order online from our secure service.
Get delivery in minutes!

US $29.95
---
Customers who viewed the Workbook Print Assistant also viewed: