Text File Importer
An add-in product for Microsoft Excel

Import files with more than 65,000 rows
into Excel 2003
Import files with over a million rows
into Excel 2007 and 2010
Import CSV files into Excel and not have Excel convert - allows you to run the Import Wizard
Import many CSV or text files at on time, to individual sheets or all to one sheet
The Text File Importer add-in for Microsoft Excel can quickly and easily import text files (CSV TXT PRN ASCII ....) containing over one million rows of data into Microsoft Excel. And, the Excel Import Wizard does not pop-up with the file is imported! It is compatible with Microsoft Excel 2003, Excel 2007, Excel 2010 and Excel 2013.
The Text File Importer is entirely menu driven. When you click on the first button on its toolbar the following dialog appears: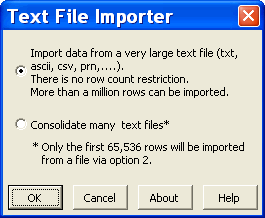 Select the first menu option to import a large file into an Excel workbook. Once you have selected the file, the following dialog controls how many lines are imported into each worksheet.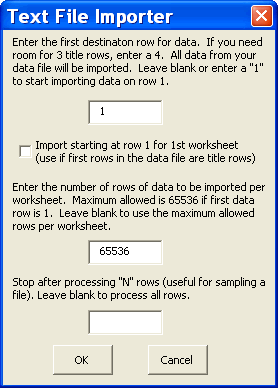 New worksheets are created as needed. The first input on the above dialog allows you to reserve rows for titles.
In our tests we imported over a million lines in just two minutes!
In addition to importing large text files into Excel, the Text File Importer can also import many text files at one time into Excel. One would just use the second option on the main dialog and select the files to be imported. The following dialog lists the import options one has when using this feature: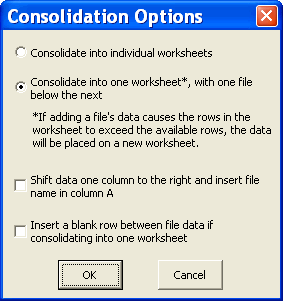 Order online from our secure service.
Get delivery in minutes!

US $29.95