Data Extraction Assistant
An add-in product for Microsoft Excel

Extract data to other worksheets based
on column entries
Create individual workbooks from worksheets
Selectively extract data based on matching entries
Alphabetize your worksheets
Extract to just one worksheet or to many
worksheets
The Data Extraction Assistant add-in for Microsoft Excel helps you extract data from one worksheet to many worksheets. It is compatible with Microsoft Excel 2003, Excel 2007, Excel 2010 and Excel 2013.
The extraction can be to the current workbook, to any open workbook, or to a new workbook. It is based on the entries in any column of the data that you specify. The Data Extraction Assistant can create new worksheets as needed. It also provides a feature that allows you to sort the sheets in alphabetical order and to quickly go to any worksheet. The following is the main dialog of the Data Extraction Assistant: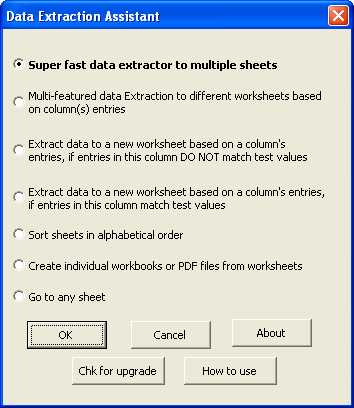 The first option, "Super fast data extractor", truly lives up to its name. We processed 750,000 rows to multiple worksheets in just 15 seconds. We didn't believe, so we did it again. And it was just as fast! The following is Wayne Atkin's comment after we added the super fast extractor. He was the one who contacted us and asked us to improve the speed:
That is just so darn clever. I am blown away. I cannot imagine that that doesn't put a smile on your face.
Cool. Very very cool.

Wow!!!! And thank you very much.
The other data extraction options on the above main menu provide far more features. When you use the second option, Multi-featured data extraction to different worksheets, the following dialog appears to provide a set of options for the data extraction: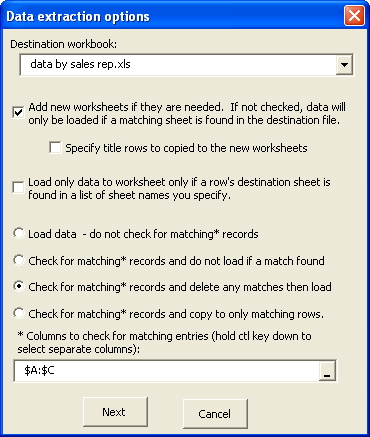 Following this dialog is another set of options that allows you to color and mark processed data: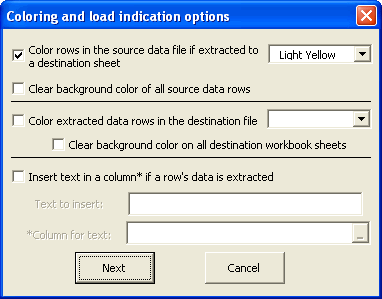 When the extraction is completed you can then go to any of the worksheets using the sheet navigation tool included in the Data Extraction Assistant. If you need to create individual files from the worksheets, the Data Extraction Assistant has an option on the first dialog above that creates individual workbooks. You can create output files in:
Excel 97-2003 format
Excel 2007-2010 format
PDF (if you are using 2007 or 2010)
Order online from our secure service.
Get delivery in minutes!

US $29.95