Sensitivity Chart Creator
An add-in product for Microsoft Excel

Create sensitivity or fish bone charts
quickly and easily
Display results in sorted order or in the order
you list in your worksheet
Automatically label end points and lines
Help and exercise file with step by step
instructions on how to use

Screen shots:

The Sensitivity Chart Creator is an add-in for Microsoft Excel that creates sensitivity charts. It is compatible with Microsoft Excel 2003, Excel 2007, Excel 2010 and Excel 2013.
The following sensitivity chart was created by the Sensitivity Chart Creator: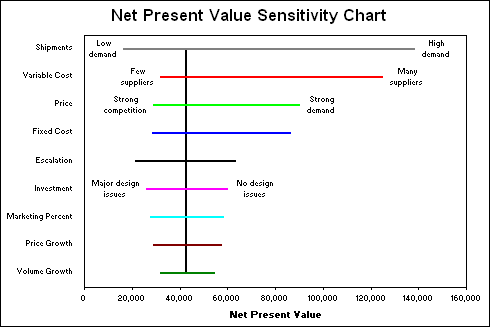 These charts are also know as tornado charts due to their appearance. They show the sensitivity of key output variables, in this case Net Present Value, to key input cells (shipments, variable cost, to volume growth). If the chart is like the above, with the main then it is called a tornado chart. If it is rotated 90 degrees, it is called a fishbone chart.
The first step in creating sensitivity charts is to first create an Excel workbook. This workbook can be as complex or as simple as you need. The above sensitivity chart was created using a workbook that modeled a proposed investment in a new product manufacturing facility. It consisted of a set of input cells for shipments, variable cost, and other key variables. From these values, key output cells such as Net Present Value and return on investment are calculated.
The Sensitivity Chart Creator has you identify the workbook and key cells in it. It then creates a premise workbook that stores this information. In it you can enter labels that are placed at the end of the data points. The following dialog allows you to decide on the order of the variables in the sensitivity chart: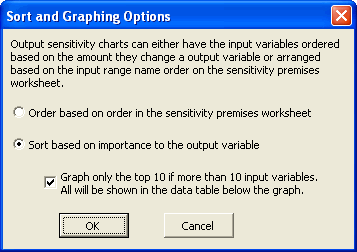 The next dialog allows you to specify if you want a tornado or a fishbone style chart. It also lets you specify if the chart is embedded on a worksheet or put on a chart sheet and other key options: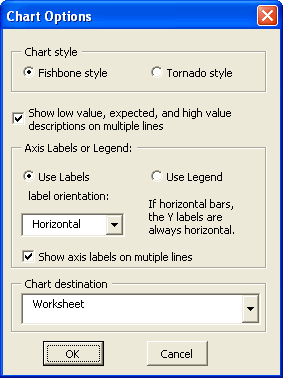 In all cases, a table of data is created listing the input values used and the resulting output values for each output variable that is analyzed:

Order online from our secure service.
Get delivery in minutes!

US $29.95
---
Customers who viewed the Sensitivity Chart Creator also viewed: