Comments Assistant
An add-in product for Microsoft Excel

Toggle show or hide comments
with a single click
Convert comments to cell text
Convert cell text to comments
Easily delete comments in a range of cells
The Comment Assistant add-in for Microsoft Excel makes using comments on Microsoft Excel worksheets very easy. It is compatible with Microsoft Excel 2003, Excel 2007, Excel 2010 and Excel 2013.
The Comment Assistant adds the following toolbar to Excel:

The first button displays the main dialog. The second button toggles a display of all comments or just the comment indicator. The third allows you to create or edit the comment of the selected cell. The last deletes the comments in the selected cells.
The main dialog has the following features: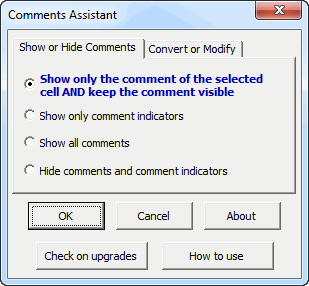 The first makes the comment of the selected cell always visible. The Excel setting when comment indicators are visible is to only show a comment when you hover the mouse over it. By having it displayed all the time the cell is selected, it is easier to read, and you can just click into it to edit it.
The features to convert cell entries to comments or to convert them back is very useful. One can convert to cell entries, easily edit, print, and then convert back to comments.
The feature to resize handles the problem of cell comments getting moved far away from their parent cell. With just a click, the comments are resized and repositioned.
Order online from our secure service.
Get delivery in minutes!

US $24.95
---
Customers who viewed the Comments Assistant also viewed: