Copy Move Assistant
An add-in product for Microsoft Excel

Copy or move rows to a target worksheet
with a single click
Record the date and time of the copy or
move - or any phrase
Optionally color or delete the source rows
The Copy Move Assistant add-in for Microsoft Excel makes it easy to move or copy rows between worksheets. It is compatible with Microsoft Excel 2003, Excel 2007, Excel 2010 and Excel 2013.
No more selecting a row, copying, going to another worksheet, pasting, and then returning to the source worksheet! Just click on a button and all those actions, and more, are done for you.
The Copy Move Assistant has a special toolbar with just two buttons. The first button displays a settings dialog like the following: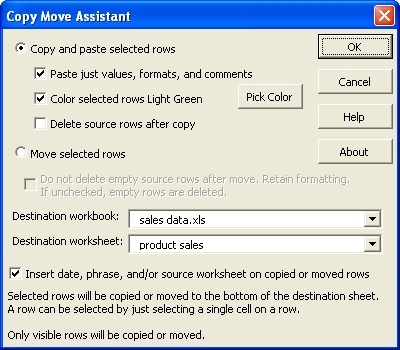 One you have specified your settings, the Copy Move Assistant will remember them from Excel session to Excel session. And, it stores the settings for up to 50 workbooks to make it easy to change settings.
The current settings are displayed by the tool tip of the second button on the Copy Move Assistant's toolbar. So all you do is set up your preferences in the above dialog and then select cells on the rows to be copied or moved and click away!
Order online from our secure service.
Get delivery in minutes!

US $29.95
Order online
Immediate
delivery