List Assistant
An add-in product for Microsoft Excel

Easily re-arrange rows or cells
Move rows or cells up or down or
anywhere with just one click
Insert or delete rows without having to
select the entire row
Move cells or rows anywhere,
any sheet, any workbook
The List Assistant add-in for Microsoft Excel is the easy way to re-arrange rows in your worksheet. It is compatible with Microsoft Excel 2003, Excel 2007, Excel 2010 and Excel 2013.
To manually swap two rows you have to insert a row, cut or drag the row being moved to the new row, and then delete the blank row that is left. With the List Assistant you just select a cell anywhere on the row to be moved and click on the up or down arrow buttons (the first two buttons) of the List Assistant's toolbar buttons:

and the row is moved. If you click on the right arrow button (the third button) you may move or copy the selected rows to any location via the following dialog: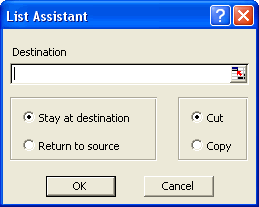 And you are not limited to moving a single row at a time! Just select cells on all the rows you want to move and they are moved as a group!
The fourth and fifth buttons

delete or insert entire rows (all all you need to do is to select a cell on a row).
The middle four buttons

on the List Assistant toolbar allow you to move a cell or a group of cells up, down, left, or right. The button

allows you to move a cell anywhere. The last two buttons

allow you to delete or insert cells.
Order online from our secure service.
Get delivery in minutes!

US $24.95