Random Sampler
An add-in product for Microsoft Excel

Randomly sample a single worksheet
Randomly sample multiple worksheets at a time
Exclude or include from sampling
based on a value test
Exclude or include from sampling based on
entries in key columns or if row colored
Mark rows that are selected
with color or a cell entry
Able to handle very large databases
Watermark sample data for verification

Screen shots:

If you need to sample a set of data, the Random Sampler add-in for Microsoft Excel will quickly and easily obtain the samples for you. It is compatible with Microsoft Excel 2003, Excel 2007, Excel 2010 and Excel 2013.
The Random Sampler main dialog gives you the following options: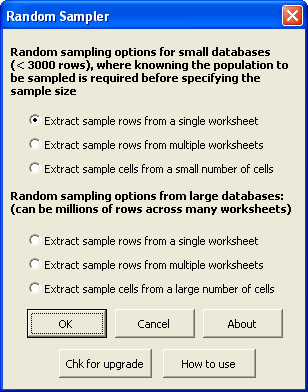 The first group of three options is designed for small databases. The second group of three options can handle millions of rows across many worksheets. We ran a test of extracting 8,000 samples from a group of worksheets containing close to 3 million data rows. The Random Sampler did the task in 30 seconds.
The first option in each group allows you to extract samples from the data rows on the active sheet. If you have many worksheets that need sampling, the second option in each group will sample them for you. You can have it extract samples randomly from all specified sheets or specify that N samples are to be extracted from each sheet.
To help you control which rows are part of the data to be sampled, you may use the following dialog: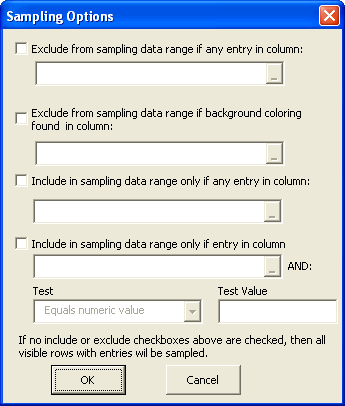 Additional dialogs have options that allow you to insert the source workbook, worksheet, and row number of the extracted sample data, to specify the marker column if you use the third option in the above dialog, and to specify the text entry.
Once you have supplied the above, the Random Sampler asks you how many samples you want and then either extracts them or identifies them based on your selections above. Blank rows are ignored.
The third option in each group on the main dialog, "Extract sample cells from a range of cells" is a great way to sample a list like the following: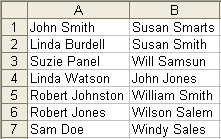 The Random Sampler is especially useful if you are auditing data and want to quickly and easily select your samples.
The Random Sampler provides two ways to document that your samples came from using the Random Sampler:
Image files of the sample rows can be created. These image files have a special watermark to make it difficult to modify
One can specify the seed for the random sampling. By specifying a seed value, one can share the seed value with another (such as an independent auditor), who can duplicate the identical sample from the data using his/her copy of the Random Sampler.
Order online from our secure service.
Get delivery in minutes!

US $49.95
---
Customers who looked at the Random Sampler also looked at: