Chart Labeler
An add-in product for Microsoft Excel

Add labels to your lines
Easily rename or delete individual labels
Move multiple labels at one time
Change individual label aligment and orientation

Screen shots:

The Chart Labeler add-in for Microsoft Excel is the easiest way to add labels to a chart series. It is compatible with Microsoft Excel 2003, Excel 2007, Excel 2010 and Excel 2013.
The Chart Labeler allows you to easily re-arrange the labels, rename them, change their orientation, or delete them. Adding labels to a chart is a great way to improve its usefulness. The following is an example of a labeled chart: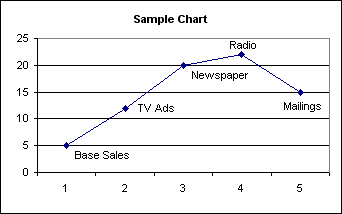 The initial dialog of the Chart Labeler looks like the following: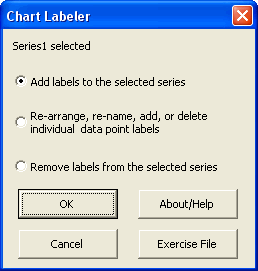 If you select the first option you are prompted for a range of cells containing the labels to be added. If you select the second option the following dialog appears: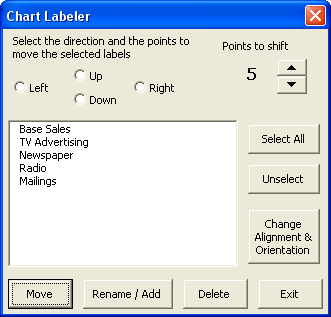 This dialog allows you to move an individual label, a group of labels, or all labels in any direction. You can use it to change label alignment and orientation. You can use the above dialog to rename, delete, or add (if a point is not labeled) a label.
Order online from our secure service.
Get delivery in minutes!

US $19.95
---
Customers who viewed the Chart Labeler also viewed: