Directory Lister
An add-in product for Microsoft Excel

Create worksheet lists of all the files in
your folders
List just specific file types
Rename, open, or delete from the list
Add documentation to the files and retain
through updates
The Directory Lister add-in for Microsoft Excel is like having the Windows Explorer on a worksheet! It is compatible with Microsoft Excel 2003, Excel 2007, Excel 2010 and Excel 2013.
The Directory Lister is menu driven for ease of use. The Directory Lister can create worksheets that contain listings of your key directories. For example, it can create a directory listing of just the XLS files in your folders. Create another one that shows just the DOC files in the same directories! From the listings you can open, rename, move, or delete files or directories. The following shows a small snap shot of a directory listing:

If you click on a filename the file is opened as the filenames are actually hyperlinks. If you click on a directory name then the Windows Explorer is opened.
The following is the dialog that appears when you click on Directory Lister button: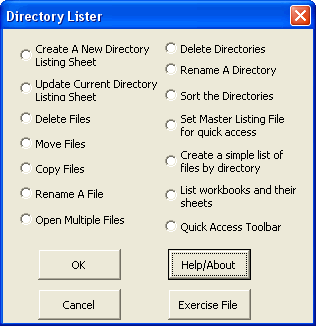 The following are the file filter options available when you create or update a directory listing sheet: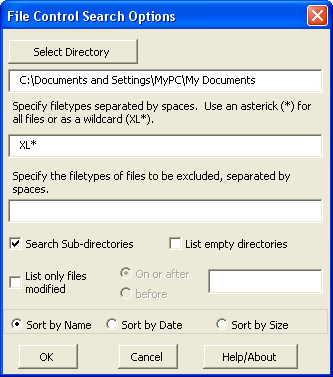 Order online from our secure service.
Get delivery in minutes!

US $29.95
Order online
Immediate
delivery