TED Assistant for Microsoft Excel
An add-in product for Microsoft Excel
FREE - No purchase ever required
*** due to changes at TED, the add-in is being modified ***
*** A fixed version will be released shortly ***
List all downloadable TED talks
Easily find talks by filtering on key words
Download selected talks, copy to your phone or tablet
The TED Assistant for Excel allows you to quickly and easily find and download TED talks. TED talks are found at www.ted.com. They range from talks on Technology, Entertainment and Design (TED). There are almost 2000 such talks, ranging from a few minutes to almost an hour. Most are about 10 minutes long and are extremely interesting.
The TED Assistant creates a workbook that lists all the downloadable talks by title, author, and key words. This makes it very easy to find talks on any subject. The following is a screen shot of the workbook:

One of our favorite things we do is to download TED talks to our phone as podcasts then play them back when we are traveling! The TED Assistant will download the talks you select so you can copy to your phone or tablet.
As new talks are added each week, the TED Assistant can update your list of talks in less than a minute. And, you can mark the talks you have downloaded or listened to so that you don't accidentally download twice.
The TED Assistant is easy to use. It adds a new menu to the Excel Specialty tab (which we add when it is installed):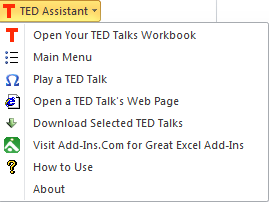 The menu item "Main Menu" will create your initial TED talks workbook and allow you to update and help you sort it.
The TED Assistant is free - no purchase ever required. Does not expire. No nag screens.
The TED Assistant works on Microsoft Windows. It does not work on Macs. If anyone wants to develop a Mac version, please contact us.