How to find Microsoft Excel 97-2003 commands
in Excel 2007 and 2010
If you have upgraded to Microsoft Excel 2007 or 2010, then you are most likely faced with the question of how to do many of the tasks that were just a mouse click or two away in Excel 97 to 2003. And,you want to find the command with a minimum amount of work! To help past users of Excel learn where to find the new commands, Microsoft has released an interactive ribbon guide to help you find the commands:
Product:
Interactive Ribbon Guide
Customers who looked at this product also looked at:
Type:
EXE program

Spreadsheet Assistant - Add over 200 new features to Microsoft Excel. And, get back the Excel 97-2003 classic menus!


For:
Excel 2007 -2010
Price:
Free
Company:
Microsoft
Location:
U.S.
Email support:
No
Phone support:
No
We highly recommend that anyone going from Excel 97-2003 download and use this guide. The program uses MacroMedia Flash. Almost all computers have it already installed. If you do not, a quick Internet Search on 'MacroMedia Flash' will find it for you.
Before you install, create a folder in your My Documents folder for the Guide. When you click the download button, a very simple dialog appears:

Select the folder you created (you will have to scroll up to see My Documents). The installation takes a few second. When it is done, the program may or may not open automatically. To open when you need it, just go to this folder and double click on it. If you are using the Windows Quick Launch toolbar, just drag and drop the program onto the toolbar for fast access. If you don't have it, a quick Internet search will advise how to install.
The program will open up and look like the following: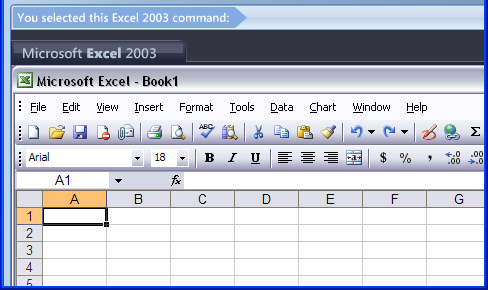 On this screen, you just click on the button or menu commands you would have run in Excel. When done, the interactive tool displays what you would have clicked in Excel 2007 and 2010 to do the same command: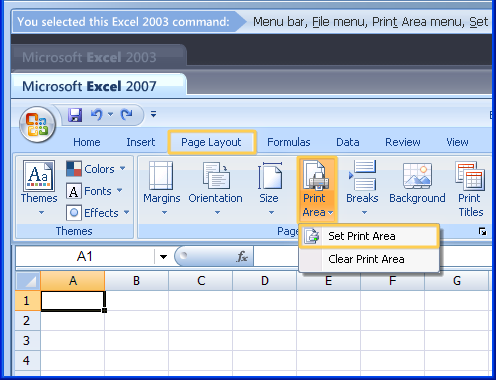 To get back to the Excel 2003 command selection screen, just click anywhere on the screen.