Password Assistant
An add-in product for Microsoft Excel

Unlock password protected worksheets even if password is lost
Password protect or unprotect multiple sheets at one time
Password protect (with workbook open passwords) multiple workbooks at one time
The Password Assistant add-in for Microsoft Excel allows you to unlock password protected worksheets or workbooks that have their workbook structure protected. It does the task in just minutes. And it gives you the password so that you can re-protect the worksheets and the workbook. It is compatible with Microsoft Excel 2003, Excel 2007, Excel 2010 and Excel 2013.
Another feature of the Password Assistant allows you to password protect or password un-protect multiple worksheets at the same time with the same password. The Password Assistant can not unlock or open a workbook that requires a password to open.
The Password Assistant is completely menu driven: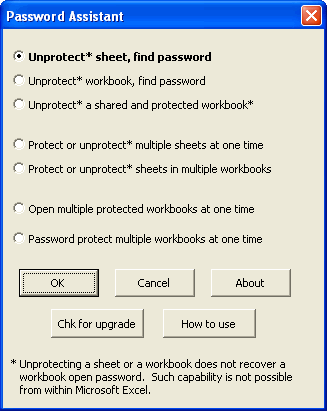 The menus are easy to follow and use. And to help you learn how to use the features of the Password Assistant there is a help and exercise file to give you hands on practice.
The last three options make it easy to open or save and password protect a group of workbooks at one time. For example if you need to open password protected workbooks, you just select the ones you want, and then provide a common password. If each workbook has a different password, then the Password Assistant will create a list of the workbooks and you enter the password in by workbook.

Order online from our secure service.
Get delivery in minutes!

US $29.95
---
Customers who viewed the Password Assistant also viewed:
Sheet Navigator - Move from sheet to sheet with great ease. View a list of all your sheets with one click!