Merge Assistant
An add-in product for Microsoft Excel

Combine entries in multiple cells into one cell
Combine by rows or columns
Combine with spaces, returns, commas,
or any character or text
Combine in address style, where the
last entry is a space and zip code
The Merge Assistant add-in for Microsoft Excel will combine entries in multiple cells into one cell. It is compatible with Microsoft Excel 2003, Excel 2007, Excel 2010 and Excel 2013.
The Merge Assistant is entirely menu driven:
When you click on the Merge Assistant dialog appears that asks for a range of cells one column wide or one row wide. This identifies both the first cell in each row (or column) to be merged and the rows (columns) to be merged.

The next dialog asks for the additional columns (or rows) to be included. You can select multiple columns (or rows) at one time and click on the Add button.

The third dialog that appears asks for merge options. You can merge based on cell appearance or cell value. Merging on cell appearance allows one to merge cells that have been formatted with leading zeros and to retain the leading zeros.

The last dialog gives you the concatenation options: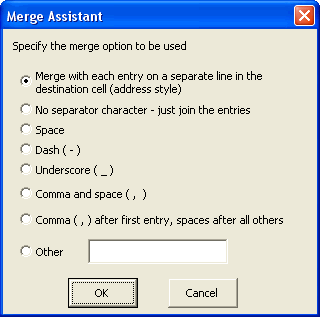 When you click OK on the above dialog the cells are merged.
Order online from our secure service.
Get delivery in minutes!

US $24.95
Order online
Immediate
delivery