Macro Remover
An add-in product for Microsoft Excel

Remove macros so that you don't get prompted to enable them when you open a workbook
Safely open workbooks which contain macros that can not be disabled manually
Remove hidden macro references
Remove buttons and other objects that have hidden macros assigned to them
The Macro Remover add-in for Microsoft Excel can remove all macros from your workbooks. It is compatible with Microsoft Excel 2003, Excel 2007, Excel 2010 and Excel 2013. Even Excel 4 macros and macros that are in un-removable modules can be removed.
It can eliminate the following screens from popping up when you open workbooks that contain macros: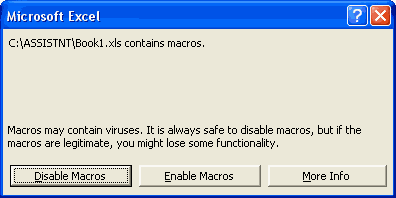 and
The Macro Remover is completely menu driven. The following is its main dialog:
The first option removes Excel 4 macros which cannot be neutralized by Excel macro security. The second removes all macros written in Microsoft Visual Basic®. Because it is possible to put macros in permanent modules, the Macro Remover checks these modules for code and deletes it. The third option removes buttons and objects that have macros assigned to them.
Order online from our secure service.
Get delivery in minutes!

US $29.95