Data Consolidator
An add-in product for Microsoft Excel

Easily to use
Menu driven
Convert many rows of data into a few rows
Great for combining test scores for data submission
The Data Consolidator add-in for Microsoft Excel makes consolidating many rows of data into a few very easy. It is compatible with Microsoft Excel 2003, Excel 2007, Excel 2010 and Excel 2013.
The following is an example of data that needs to be consolidated into a few rows: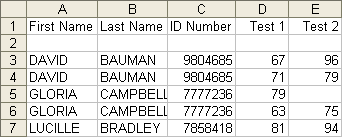 After being processed by the Data Consolidator, a new worksheet is created that has one line for the title columns( in this case first name, last name and ID number):

The entire process is menu driven. The title columns can be any columns you wish. the data columns can be all columns to the right of the title columns, or any set of columns you select.
Order online from our secure service.
Get delivery in minutes!

US $29.95
---
Customers who viewed the Data Consolidator also viewed: